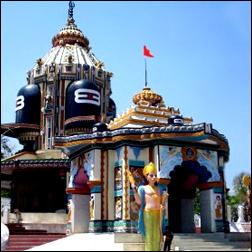 Yogeswar :
On the bank of river Jonk is place of uncommon scenic charms. Engirdled on all sides by green clad hills. It holds in its bosom and irrigation project and culture dating back to pre-Christian era at Manikgarh.This is the Dam site of the Upper Jonk Irrigation Project situated at a distance of 20Km from the Dist Hqr. This place is also famous for YOGESWAR TEMPLE. This place has the potential of a tourist centre in future. There is a lot of scope for Boating in the Reservoir of the U.J.I.P. It has also been planned to start the Dist Museum and Pantha Nivas at the Dam site.
By Rail Nearest railhead is Kantabanji on S.E.Rly-75 Kms. By Road 110 Kms. From Bhawanipatna Via-Khariar, 110 Kms from Nuapada and 40 Kms. from Khariar-connected by and all weather Road.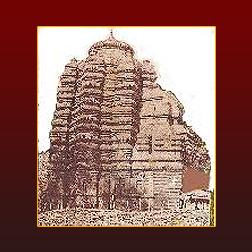 Pataleswar :
Budhikomna houses the famous temple of Pataleswar made of bricks in pancharatha style unique in the state. A connoisseur of art and architecture finds immense pleasure in observing the different facets of this place. It is also a popular pilgrim centre in the locality.
By Rail Nearest railhead is at Harishankar Road-40 K.Ms. By Road 36 Km. from Nuapada and 46 Km. from Khariar is connected by a good motorable road.
Debagiri :
The Devagiri hill rises to a height of 120.2 meters. Unlike other hills it is not narrower upwards. The top of the hill is a flat platform of rectangular plain, which can be approached only from the northern side. There are 476 steps which are the unique feature of the Devagiri. At the top of the hill, there are perennial poles of water called Ganga, Yamuna, Saraswati, Bhargavi and Indradyumna.
There is a cave looking like two Jaws, The Siva Lingam is enshrined at the meeting point of the Jaws. Sivaratri is its biggest festival, which draws a large crowd every year. It is 50 KMs from Rayagada. Regular bus services are available from Rayagada to Kalyansingpur and the sacred hill is close to Kalyansingpur.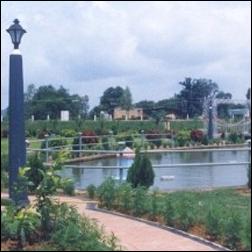 Rajib Udyan:
On the left of the dam down the slopes of hill sprawls a replica of the Brundaban Garden. Recline on the velvety grass and enjoy nature in its aesthetic form. Just below the dam, a flora fountain in the making. The srinkling water within a flowering ring presents a splendid sight. Colourful ling add its beauty at night and oldy goldy music gives immense relief to tired tourist.
hubaneswar the state capital of Orissa 535-kms. There is an airstrip at Gotma 7-kms and 4-kms respectively from Nuapada and Khariar Road. Rail: Nearest railhead is at Nuapada Road 3-kms on Vizang-Raipur line on East Coast Railway. Road: Nuapada is connected with all weather motorable roads to Bhubaneswar, Orissa and Raipur, Chhatishgarh and various other cities of the state NH 217.